Hi,
in this little port i'd like to show u an easy way to attack-defend ourselves and how to get the middle flag in state war.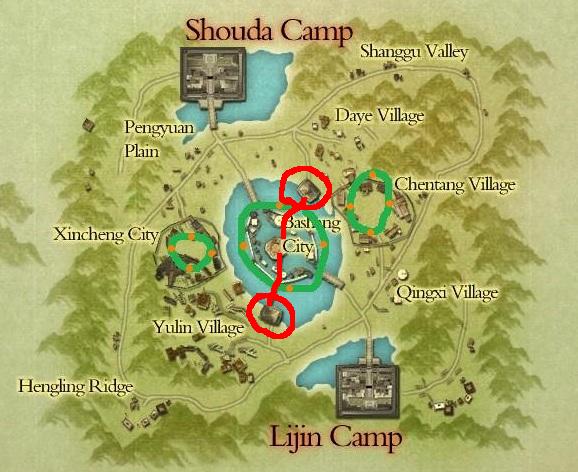 As u can see in the pic i've stolen from crypt, i added RED marks. They show u the alternate route to the middle flag, once the main entrance is blocked by opponents. So if we should lose the middle flag and have to get it back, just come all together on these hanging bridges and get it back, because they cant be blocked so easily as the main entrance.
The other tactic is the attack-defense way of fighting by using scepters. Scepters are the ultimate class in masswars for support, because of one skill ... Wildfire. It stuns up to 11 ppl on a huge area far away from u.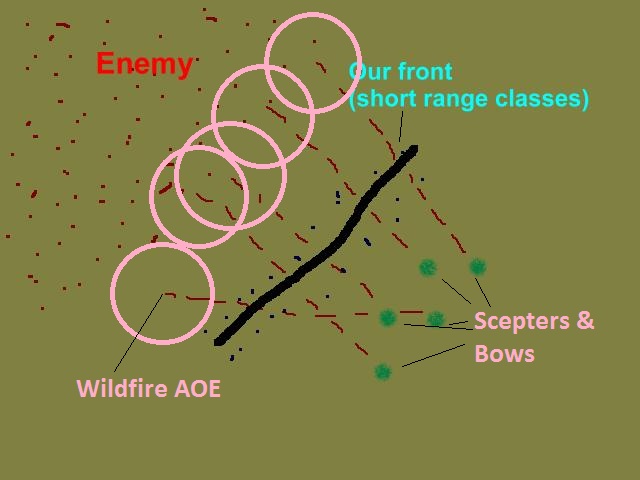 Make party with ur friends or ppl u know/trust and if u can have 1-2 scepters in ur party. The scepters should stay behind and spam Wildfire on enemy as much as u can. This is the most effective skill in war.
One very good way to achieve that goal is to move back and forth. The front line should move towards the enemy and back at once. The enemy charges in, gets stunned in wildfire aoe .. the front line moves towards them again and finishes, moves back again etc.
This way u can survive a long time without dieing and kill- stop many enemies.
Of course its very hard to stay in groups at SW because u all revive somewhere else but the middle flag should be the meeting point for all of us, because its the most important one and we need to have it to win !
These tactics are from my points of view very effective and simple once u tried and i hope it will help u in the war.
Choco